| | | |
| --- | --- | --- |
| | Gaïta Medieval Music Performance | |
---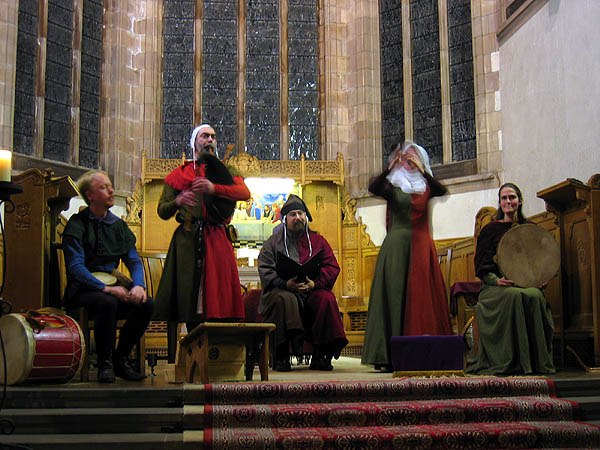 Photo by Violette Grinnaert
A Series of Unfortunate Events


A Musical History of Medieval Scotland
The story of the medieval Scottish Kings from the dynasty founded by Malcolm Canmore to the Stewarts is a series of brief periods of stability and hope punctuated by disastrous calamity. Beset by troubles from the English, the Norwegians, the Papacy and more often than not, their own nobility, these kings rarely died peacefully.
This programme is a brief history of the Scottish Kings, Courts and Musicians of the 13th and 14th centuries. It includes music written in Scotland (St Andrews Music Book, Inchcolm Antiphoner), music showing other's view of Scotland, and other contemporary sources, all interspersed with a narrative overview of this fascinating period of Scottish history and its relevance to the music.
Sample MP3s: Ex te lux oritur
"This song was written to celebrate the marriage of Margaret, daughter of Alexander III, to King Eric of Norway. But in the short space of two years, Princess Margaret and both her brothers had died. King Alexander himself was killed soon after when he rode his horse over a cliff in Kinghorn during a fog. Scotland's heir was now the infant daughter of Margaret and Eric – the Maid of Norway..."
Sample MP3s: Motet - Hare, Hare Hye! / Balaam
"The Scots also had a reputation in France– in this drinking song the writer exclaims ,'By St Andrew! These ale brewers are turning Arras into Scotland.'"
Sample MP3s: Estampie on Hare, Hare, Hye!
Chris Elmes

Bagpipes,

fiddles, oud, percussion

Cait Webb:

Shawms, harps, percussion

Stacy Schumacher:

O

ud, percussion

Andrew Casson:

Recorders, citole, percussion

Tembu Rongong

:

Voice, Narrations
---
Contact: Chris Elmes


(Edinburgh, Scotland)
(+44) 0131 557 2397
info@gaita.co.uk
---
Last updated 22nd February 2007